Liz Weston



Liz Weston

is an award-winning, nationally-syndicated personal finance columnist who can make the most complex money topics understandable to the average reader. Her first book

Your Credit Score

is a national bestseller. Its fourth edition was published in late 2011. The New York Times called her book,

The 10 Commandments of Money: Survive and Thrive in the New Economy

, a "wonderful basic personal finance book... throughout, the book's tone is supportive of people struggling to understand these topics and trying to make ends meet." Liz's question-and-answer column "

Money Talk

" appears in newspapers throughout the country, including the Los Angeles Times, the Palm Beach Post, the Portland Oregonian and others. She currently writes a weekly column for Reuters and is a Bankrate contributing editor.
---
---
Today, a good credit score is essential for getting decent terms on credit - or for getting credit at all. But that's just the beginning: Your credit score rating can be reviewed by everyone from employers to cell phone carriers. Now, MSNBC/L.A. Times journalist Liz Weston has thoroughly updated her best-selling guide to credit scores, with crucial new information for protecting (or rebuilding) yours. Your Credit Score, thoroughly covers brand-new laws changing everything from how your credit score can be used to how you can communicate with collectors. This edition also adds simple graphics revealing exactly how much skipped payments, bankruptcies, and other actions will lower your credit ratings, and how long it takes to rebound. You'll find new information on "FAKO" alternative scores, expanded coverage of short sales, foreclosures, the new FICO 8 Mortgage Score, and when to "walk away" from a mortgage. Learn how to protect yourself against new credit risks from social networking and mobile banking and how to safeguard against unethical or illegal use of credit scores by employers. Weston updates her expert guidance on using FICO 08 to raise your score, fighting lower limits and higher rates, maintaining the right mix of cards and balances, bouncing back from bad credit, choosing credit "solutions" that help, not hurt... and much more!


---
Millions of us skate by from paycheck to paycheck. We all have financial goals we want (or need) to achieve, but are perplexed by how to get there. But expert financial advisor Liz Weston has carved a path, with ten simple strategies that help anyone avoid critical mistakes, survive downturns, and make the numbers work. Debunking well-trod myths (pay down all your debt immediately) while giving unexpectedly brilliant tips (it's okay to let student loans linger), Liz Weston outlines everything you need to become financially viable, including how to:
Know what you can afford
Create a survival plan with cash and credit
Manage "good debt" to get ahead
Save for retirement without sacrificing today
---
Struggling with debt? Get realistic help that's actually useful, from Liz Weston, one of the most popular and respected personal finance experts! Today, people struggling with debt have far fewer options: lenders are stingier, which makes it harder to avert disaster, or to recover from setbacks like foreclosure, short sales, or bankruptcy. (Meanwhile, people with good credit have more options than ever, including some of the lowest interest rates in decades.) You need an up-to-date guide that can help you assess options, find help, discover opportunities, and take action that works. Liz Weston's Deal with Your Debt, Updated and Revised Edition is that guide. Weston reveals why most "conventional wisdom" about debt is just dead wrong. For most people, it's simply impractical to pay off every dime of debt, and live forever debt free. In fact, doing that can leave you a lot poorer in the long run. You're more likely to give up, or pay off the wrong debts. You could leave yourself too little flexibility to survive a financial crisis. You could neglect saving for retirement. You might even wind up in bankruptcy -- just what you're trying to avoid! For most people, it's smarter to control and manage debt effectively. In this extensively updated guide, Weston shows how to do that. You'll learn which debts can actually help build wealth over time, and which are simply toxic. You'll find up-to-date, real-world strategies for assessing and paying off debt, money-saving insights on which debts to tackle first, and crucial information about everything from debt consolidation loans to credit scores and credit counseling. Weston offers practical guidelines for assessing how much debt is safe -- and compassionate, realistic guidance if you've gone beyond the safety zone. If you've ever worried about debt, you'll find the new edition of Deal with Your Debt absolutely indispensable.


---
Liz Weston, columnist for MSN Money and author of the nationally syndicated column "Money Talk," provides a practical, easy-to-understand guide to taking control of personal finances and establishing financial security. Like most financial advice books, this collection covers the basics, such as creating a financial toolkit, investing, planning for retirement and saving for college. While Liz provides insights into these areas-especially for those without a financial background-she also charts new territory with her "60 Percent Solution" and "50/30/20 Plan," both aimed at spending control, as well as getting the most out of your credit cards and what to do if you've overspent on a car purchase. An advocate of online banking, Liz maps out the right way to pay bills and advocates account aggregation and consolidation. She also provides a useful resource guide for finding a financial planner, a tax professional and an estate planning attorney. Checklists are included in each chapter, as well as helpful charts and tables that aid in getting and staying organized. This book will be a valuable guide on the path to financial control and security.


---
Up-to-Date, Common-Sense Money Answers, from the Internet's #1 Personal Finance Journalist!
Quick, bite-size advice you can understand, trust, and use
Save for retirement, college, or anything else
Pay off debt, the smart way
By award-winning MSN Money/AARP financial columnist and CNBC contributor Liz Weston
You can build financial security - and you don't need to be a rocket scientist to do it. This book brings together all the help you'll need, in common-sense language anyone can understand. It's organized around the questions real people have asked Liz Weston, the Internet's #1 financial columnist. Weston's answers are simple, accurate, and up-to-date... and best of all, you can use them. Here are powerful, sensible ways to get out of debt... set financial priorities for a better life... and save for everything from college to retirement. Liz offers realistic, up-to-date help with everything from investing to home buying, from improving your credit score to avoiding identity theft. You'll also learn how to master the emotions of money: to get past the pain, arguments, and guilt, and do what works.
---
---
Powered by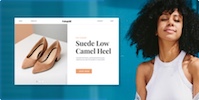 Create your own unique website with customizable templates.