Entrepreneurship



Exploring business opportunities? Need more business ideas? Discover business strategies and learn what it takes to be a highly successful entrepreneur. Check out articles on entrepreneurship here.
---
---
In this first new and totally revised edition of the 150,000-copy underground bestseller, The E-Myth, Michael Gerber dispels the myths surrounding starting your own business and shows how commonplace assumptions can get in the way of running a business. He walks you through the steps in the life of a business from entrepreneurial infancy, through adolescent growing pains, to the mature entrepreneurial perspective, the guiding light of all businesses that succeed. He then shows how to apply the lessons of franchising to any business whether or not it is a franchise. Finally, Gerber draws the vital, often overlooked distinction between working on your business and working in your business. After you have read The E-Myth Revisited, you will truly be able to grow your business in a predictable and productive way.


---
Most startups fail. But many of those failures are preventable. The Lean Startup is a new approach being adopted across the globe, changing the way companies are built and new products are launched. Eric Ries defines a startup as an organization dedicated to creating something new under conditions of extreme uncertainty. This is just as true for one person in a garage or a group of seasoned professionals in a Fortune 500 boardroom. What they have in common is a mission to penetrate that fog of uncertainty to discover a successful path to a sustainable business.
The Lean Startup approach fosters companies that are both more capital efficient and that leverage human creativity more effectively. Inspired by lessons from lean manufacturing, it relies on "validated learning," rapid scientific experimentation, as well as a number of counter-intuitive practices that shorten product development cycles, measure actual progress without resorting to vanity metrics, and learn what customers really want. It enables a company to shift directions with agility, altering plans inch by inch, minute by minute. Rather than wasting time creating elaborate business plans, The Lean Startup offers entrepreneurs - in companies of all sizes - a way to test their vision continuously, to adapt and adjust before it's too late. Ries provides a scientific approach to creating and managing successful startups in a age when companies need to innovate more than ever.
---
What would happen if you made your business decisions by the book? By the Bible that is. This updated version of the best-selling Business by the Book offers radical principles of business management that go beyond the Ten Commandments and other biblical maxims. Business by the Book is a step-by-step presentation of how businesses should be run according to the Creator of all management rules: God. Larry Burkett provides business principles from his own experience as well as what God's Word says on topics such as:
Hiring and Firing Decisions
Pay Increases and Promotions
Management Selection
Employee Pay Decisions
Borrowing and/or Lending Decisions
Forming Corporations and Partnerships
Business Tithing
Retirement

Whether you are the owner of a business, a corporate executive, or a manager, this best-selling classic is for you.
---
In How to Run Your Business by THE BOOK, famed leadership guru Dave Anderson reveals biblical lessons to help transform the people, culture, and results of your business. Not only will you master timeless business principles based on the world's bestselling book, you'll build a foundation for your business that leads to long-term success. It's a refreshing return to commonsense business basics, based on leadership lessons peppered throughout the Good Book. You'll read what the bible has to say about hiring and training people, managing money, creating a leadership vision, achieving ambitious goals, and much more. This new Second Edition features a new introduction that includes letters from readers about their success using these principles, a new chapter on leading through crisis, and bonus sections at the end of each chapter that offer new and expanded insights on these powerful leadership principles. Best of all, you don't need to be familiar with the Bible to profit from these wise and timeless principles. All you need is a heart open to biblical wisdom and a willingness to lead with courage.


---
This unmatched guide offers critical startup essentials and a current, comprehensive view of what it takes to survive the crucial first three years, giving your exactly what you need to survive and succeed. You'll get advice and insight from experts and practicing entrepreneurs offering solutions to a wide range of challenges.
Pin point your target market
Uncover creative financing for startup and growth
Use online resources to streamline your business plan
Learn the secrets of successful marketing
Discover digital and social media tools and how to use them
Take advantage of hundreds of resources

---
This completely practical, no-nonsense guide gives you expert advice on everything from generating ideas and locating start-up money to hiring the right people, balancing the books, and planning for growth. You'll get plenty of help in ramping up your management skills, developing a marketing strategy, keeping your customers loyal, and much more. You'll also find out to use the latest technology to improve your business's performance at every level.
How start-up and established small businesses can use the Small Business Jobs Act to their advantage
Enhanced and expanded coverage on using technology in your small business
Hiring employees using online resources including LinkedIn, Facebook, and other social media sites
New coverage of the recent health care bill, health savings accounts, and their implications for small business
Updated coverage of the best places to get small business loans
What it takes to achieve and maintain success in an ever-changing economic landscape
You have the energy, drive, passion, and smarts to make your small business a huge success. Small Business For Dummies provides the rest.
---
---
Powered by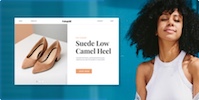 Create your own unique website with customizable templates.